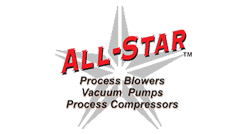 Kerr Pump & Supply works with All-Star Products, Inc. to offer a full line of "processed air" products. For 15 years, All-Star has built Regenerative Blowers, high flow TurboBlowers, Rocking Piston vacuum pumps and compressors and Rotary Vane vacuum pumps and compressors.
All-Star blowers, vacuum pumps and compressors are found in environmental applications that help to monitor the air we breath, clean waste water, remove toxic gas from landfills to toxic radon found in homes and buildings; in municipal and industrial applications; in the food industry and the medical industry from dental suction pumps to hospital and health care needs. Kerr works with All-Star to help meet the most demanding applications with a cost-effective and high performance solutions.
Kerr Pump & Supply distributes the following All Star Products:
Regenerative Blowers & Vacuum Pumps
Performance tested to ANSI standards, All Star blowers offer high performance, superior quality and low cost. Featuring straddle-mounted impeller design, eliminating the damaging effects of high bearing temperatures and overhung loads.
Turboblowers
Higher flow, lower noise and high efficiency due to special impeller design. Long service life, low vibration and CNC manufacturing assures high-accuracy tolerance for peak performance.
Rotary Vane Pumps and Compressors
All-Star offers the finest 100% oil-free rotary vane pump and compressor available. Manufactured with the latest CAD and CAE technology and precision.
Rocking Piston Pumps and Compressors
Rocking Piston Compressors are a compact and reliable source of oil-free pressure or vacuum air at a moderate to high flow. A wide range of performance and features are available