Kerr Pump & Supply offers Mechanical Pump Seals to meet your needs.  We also offer quick delivery, and expert advice on replacing and extending the life of your seals.  To learn more about seals,  download the AST Mechanical Seal Basics Powerpoint.
Mechanical Pump Seals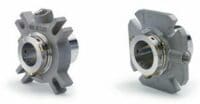 Single Cartridge Seals AST 70  is a simple-to-install, unitized cartridge mounted, balanced, multiple spring seal which requires no measuring for installation. It is the basic mechanical seal of choice for ANSI pumps (including enlarged bore seal chambers), vertical pumps, split case pumps, and many more.
The AST70 is easy to rebuild on site with standard tools.  No measurement is needed – slide the seal onto the shaft, bolt the gland down, then tighten the set screws and remove the centering blocks.    No tear down is required.   The static O-ring eliminates any grooving or fretting of the shaft. The impeller can be adjusted without removing the seal or pump.  Can be used in:
Food Processing
Corn Processing
Chemical Processing
Pharmaceuticals
Water treatment
Mining Services
Marine Operations
Sugar Refining
Petroleum Systems
Power and Energy
Pulp and Paper
Phosphate Production
Brewing and Distilling
Waste Treatment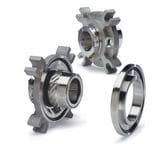 Single Cartridge Seals AST 7023 is the off-the-shelf solution for hot liquid sealing with ANSI Plan 7323 (API Plan 23). Its built-in pumping ring fits in enlarged bore seal chambers on popular ANSI pumps. Liquids pumped near their vapor pressure must be cooled for successful sealing. Hot water, for example, has low lubricity and causes high seal face wear. Flashing can open the seal faces, causing leakage and seal face damage.
API Plan 23 (ANSI Plan 7323) is the most reliable and economical way to cool a seal. The sealed liquid is circulated from the seal chamber (not the pump discharge) through a cooler and back to the seal. Since only the liquid around the seal is cooled, the heat load on the cooler is minimized and process energy is conserved. Cooler fouling is reduced, extending cooler life.
The AST 7023 seal is the off-the-shelf solution for hot liquid sealing. Its built-in pumping ring fits in enlarged bore seal chambers on popular ANSI pumps.
No orifice to clog -The low pressure differential (compared to Plan 21) means that no orifice is required to regulate cooling flow.
High temperature sealing with standard materials – The AST 7023 seal is cooled and isolated from the hot process. Corrosion rates and elastomer compression set are reduced, and precipitation from dissolved solids is minimized.
Field Rebuildable – No more waiting for seal repairs, and no more worries about installing exchange seals that might have previously held hazardous materials, because the AST 7023 is easy to rebuild on site using standard tools.
No measurement required – Simply slide the seal onto the shaft, bolt down the gland, tighten the set screws, and remove the centering blocks.
Easy Impeller Adjustment – Adjust impeller clearance without removing the seal or dismantling the pump.
Applications include:
Boiler feed
Boiler circulating
Hot hydrocarbons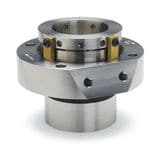 The AST 80M Seal is a rugged dual mechanical seal built for use in mixers, agitators, double-ended pumps, and other rotating equipment in demanding service. With its large internal clearances, the AST 80M tolerates shaft runout and end play that would make another seal fail.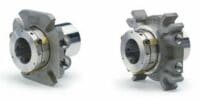 The AST 80 dual mechanical seal incorporates liquid shear pumping to remove heat from the seal faces, and can be operated with a pressurized barrier or non-pressurized buffer fluid system.
Both the 80 and 80M can be used in three ways:
Double Seal: With barrier fluid pressure higher than product pressure, the AST 80 prevents leakage of toxic or hazardous fluids into the environment. The barrier fluid provides lubrication to seal gases and non-lubricating fluids.
Tandem Seal: By using a buffer fluid with pressure lower than process, the AST 80 can reduce pressure differential across a single set of seal faces.
Spare Seal: With un-pressurized buffer fluid, the outboard seal of the AST 80 runs "at idle" as a standby seal. If the inboard seal fails, the outboard seal provides primary protection, eliminating unscheduled shutdown of batch processes.
For more information, you can download these documents or contact us for personal assistance.