Kerr Pump & Supply is now offering Milton Roy Metering Pumps for the municipal markets.  Milton Roy highly reliable dosing and metering pumps are designed to last – many have been in service for 30 or more years.   Plant operators appreciate the extended pump life cycles, minimal downtime and lower maintenance costs our product quality delivers, all at API 675 standards.
Milton Roy Metering Pumps safely and accurately deliver a wide range of chemical additives such as: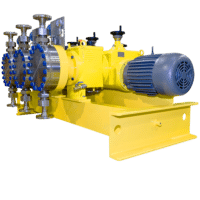 coagulants
filter aids
disinfectants
flocculants
oxidants
pH conditioners
softening agents
taste and odor controls
de-chlorination chemicals
and more
Watch Kerr Pump Milton Roy YouTube Channel to learn more.
(To see video choices, open playlist using the upper left menu bars)

Milton Roy Featured Pumps
Metering Pumps  
G Series/MACROY® Metering Pumps
CENTRAC™ Series Metering Pumps
MAXROY® Series Metering Pumps
MILROYAL® Series Metering Pumps
mROY® Series Metering Pumps
PRIMEROYAL® Series Metering Pumps
PROTEUS™ Series Metering Pumps
Process Pumps
Megaroyal® Diaphragm Process Pump
Poweroyal® Positive-Displacement Reciprocating Pump
Top-Entry Mixers
Helimix® Folding Blade Mixer (IBC)
HM Series Top-Entry Mixer
Helisem(R) Series, Portable Top Entry
ROBIN® Top-Entry and Bottom-Entry Mixer
Other
Side-Entry Series
Streaming Current Detectors
Valves and Accessories
Additional Milton Roy Resources
Download Milton Roy's basics of metering pump technology and comprehensive controlled-volume metering pump offering
Contact a Kerr Sales Engineer using the form on the right for more info and quotes.
About Milton Roy Metering Pumps
The first controlled-volume metering pump was designed in the home of Milton Roy. Since then, we have continued to grow the company with some of the most important advancements in metering pump technology. Significant innovations include the high performance diaphragm, hydraulic bypass metering pump drive, and diaphragm rupture detection system. Today, we manufacture the most reliable products on the market that enable our customers to operate in critical processing industries throughout the world.
Milton Roy is proud to be part of Accudyne Industries, a leading global provider of precision-engineered, process-critical, and technologically advanced flow control systems and industrial compressors.