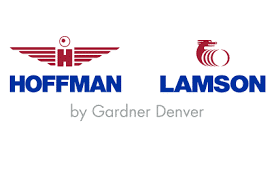 Kerr Pump and Supply is now the authorized Michigan distributor for HOFFMAN & LAMSON Centrifugal Blowers & Engineered Vacuum Systems.
For more than 115 years, the HOFFMAN & LAMSON brands have been well known for Industrial centrifugal blower and engineered vacuum solutions and are now part of the Gardner Denver family of products.
HOFFMAN & LAMSON Centrifugal Blowers & Engineered Vacuum Systems (EVS)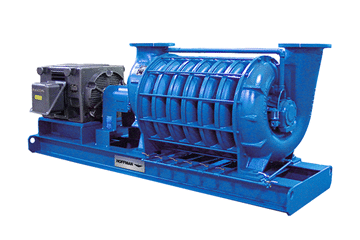 HOFFMAN & LAMSON have a comprehensive selection of centrifugal blowers with technology that will maximize productivity and minimize energy costs for your applications. There are over 100,000 centrifugal blowers and engineered vacuum systems in operation worldwide.
Centrifugal blowers are available in:
Cast or fabricated multistage
High speed turbo
Re-manufactured
Regenerative
Blower Packages
HOFFMAN & LAMSON Centrifugal Blower Applications
Industrial processing – centrifugal blowers provide air or gas for sulfur recovery, combustion air, process gas boosting, coal mine venting, fluidized bed combustion systems, vapor and gas extraction, landfill gas, composting, sludge incineration, CO2 compression, air knives and printing systems.
Engineered vacuum systems (EVS) – centrifugal blowers are used as an exhauster to pick up, convey and capture a myriad of materials ranging from aluminum granules to corn flakes.
Other air handling applications
What is the difference between a Centrifugal Blower and Exhauster?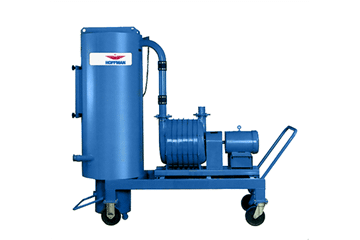 Blowers and exhausters circulate air or gas but the process of circulation is different.
Exhausters are the heart of vacuum systems.
Blowers channel air or gas in a specific direction.
Exhausters are designed to provide continuous flow and pulse-free air while delivering quiet and clean vacuum. These units are practically maintenance free with only one moving part and no timing gears. Bearings require only occasional greasing and the shaft seals are non- contacting and non-wearing.
A blower is a low pressure, high volume compressor. Blowers are applied to systems that require the machine to provide positive pressure. These units take ambient air or gas from supply and compress the air or gas to produce the required result.
Industrial Central Vacuum Systems
The HOFFMAN & LAMSON brands have been providing industrial central vacuum solutions for various applications for more than 100 years, manufacturing a central vacuum system designed with optimum performance and capability at the lowest operational expense possible.
We offer:
Vacuum Collectors & Separators
Vacuum Hoses & Tools
Tubing & Fitting
Flux Recovery Vacuum Systems
T-Vac Self-contained systems
Portables
HOFFMAN & LAMSON Authorized Service Center
Kerr Pump & Supply is a member of the HOFFMAN & LAMSON Network of Authorized Service Centers. We provide services for installation, start up, preventative maintenance, repairs, rebuilds and troubleshooting of your centrifugal blowers and systems.
Our team of skilled, experienced technicians are factory trained and work with current OEM drawings and authentic OEM parts to repair your blower to original factory specifications.  We offer:
Regional Capability to Repair On-Site or at a Local Authorized Service Center
Local Staffing of Field Service Technicians for Quick and Affordable Deployment
Localized Inventory of Certified OEM Parts
Blower Repair and Refurbishment to Factory Standards • Rotor Alignment and Rebalancing
Laser Alignment
Vibration Analysis
Take Amp Draws & Temp Readings
Watch HOFFMAN & LAMSON Videos on Kerr YouTube Channel