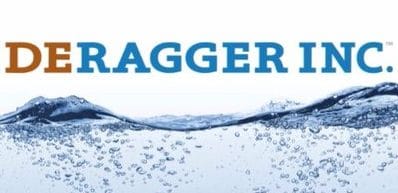 Kerr Pump & Supply offers the Deragger pump monitoring system that will eradicate pump clogs in wastewater pumps.  The Deragger+ constantly monitors a pump motor's torque signature and can dislodge rags should they become stuck on or inside the impeller/volute. This is achieved with a tuneable "clean cycle" involving a brief and unique series of forward and reverse motions of the impeller.
Deragger has significant advantages over Choppers or Grinders, which create particles that are passed through headworks screens and cause problems in treatment plant processes. Deragger does not.  Deragger reverses the flow, dislodges the wipe from the impeller, then sends it along through the normal process.
The key feature of the Deragger+ low-voltage, electronic pump management system is real-time pump monitoring.The patented Deragger technology also can reduce wear and tear caused by unbalanced loads by monitoring the long-term condition of the pumps.
View Comparison Chart – Deragger to VFDs
View Comparison Chart – Deragger-vs-PLC-vs-VSD-vs-Chopper-Pump
Deragger Pump Monitoring System Benefits:
Deragger+ ends the time-consuming and costly process of manually lifting pumps to clear the rags, thus reducing downtime and pump repairs.
Wealth of diagnostic information and pump data
Typical payback in months
Reduces operational callout costs
Improves electrical efficiency by up to 48%, lowering carbon footprint


Reduces pollution incidents
Minimal interruption to 'live' sites
No new kiosks, replacement panels or construction works
Simple plug and play to any starter type
Also includes multiple Mobile Apps to help protect your assets – motor protection, data logger, wet well clean, dry run protection, float switch backup, odor control, derived flow
Try Deragger's cost savings calculator
Deragger Featured Products
Here are the products offered by Deragger by Kerr Pump & Supply.
Deraggger+ and Deragger Lite

The smart way to end pump ragging and improve efficiency.

Lite does not come with the apps.

Deragger Pro Station Controller

Uninterrupted operation with comprehensive fault-finding diagnostics in an intelligent interface.

Power Monitor

Combining motor protection, sensing and logging in one compact device.
See it work on Kerr Pump – DeRagger YouTube Channel
(To see video choices, open playlist using the upper left menu bars)

Deragger Additional Resources:

Features our complete line details, charts, specs and more.
Deragger/ Kerr Pump & Supply Case Studies:
Tawas City, Michigan
DERAGGER+ installed along with DERAGGER PRO.
Monthly saving of between $1,200 and $3,600!
Elimination of ragging problems.
"We were coming to clean these pumps as often as three times a week, and we haven't had to clean either a single time since installing the DERAGGERs!"
Union Township, Michigan
Side-by-side comparison with self-reversing pump with integrated VFD.
DERAGGER+ installed along with DERAGGER PRO.
Elimination of ragging problems.
"After trialing both…side by side, I prefer the PRO for its functionality, flexibility and great color touchscreen. It also costs a fraction of what a self-reversing pump would cost…It's a no brainer!"
Deragger in the News:
Read our Municipal Sewer & Water article
Read our Treatment Plant Operator article