Kerr Pump & Supply is a stocking Lutz drum pump distributor for the state of Michigan. Lutz is a leading manufacturer of drum and container pumps and related components, with distribution throughout the world. The broad range of Lutz products encompasses fluid handling solutions of the highest quality, reliability, and safety.
Kerr relies on Lutz's decades of experience in fluid handling to provide the highest quality drum pumps and container pumps for our customers' requirements. With successful installations worldwide, the extensive Lutz product line includes solutions for emptying, pumping, circulating, and mixing various liquids.
As a Lutz distributor in Michigan, Kerr Pump & Supply can quickly ship your Lutz pump order or help you with drum and container pump parts.
Drum Pumps
Lutz Drum Pumps are offered in wide variety of sizes, materials of construction, and performance capabilities. Pump motors can be combined with interchangeable pump tubes to suit the application. Materials include:
polypropylene and PVDF for acids and alkalis
Aluminum for diesel and oil
Stainless steel for corrosive and neutral liquids, as well as pharmaceutical and food applications
Hastelloy C for highly aggressive acids or alkalis
With the proper combination of drum pump motor, tube, and accessories, any type of liquid can be pumped.
Drum Pump Motors
The range of Lutz drum pump motors ensures that a suitable motor is available for any liquid application. Motor options include:
Electric (with speed control and variable speed control options, as well as explosive compatible)
Compressed air (explosive compatible and non-explosive compatible)
Three phase gear continuous duty (with variable speed control option)
Battery powered for light weight, mobile flexibility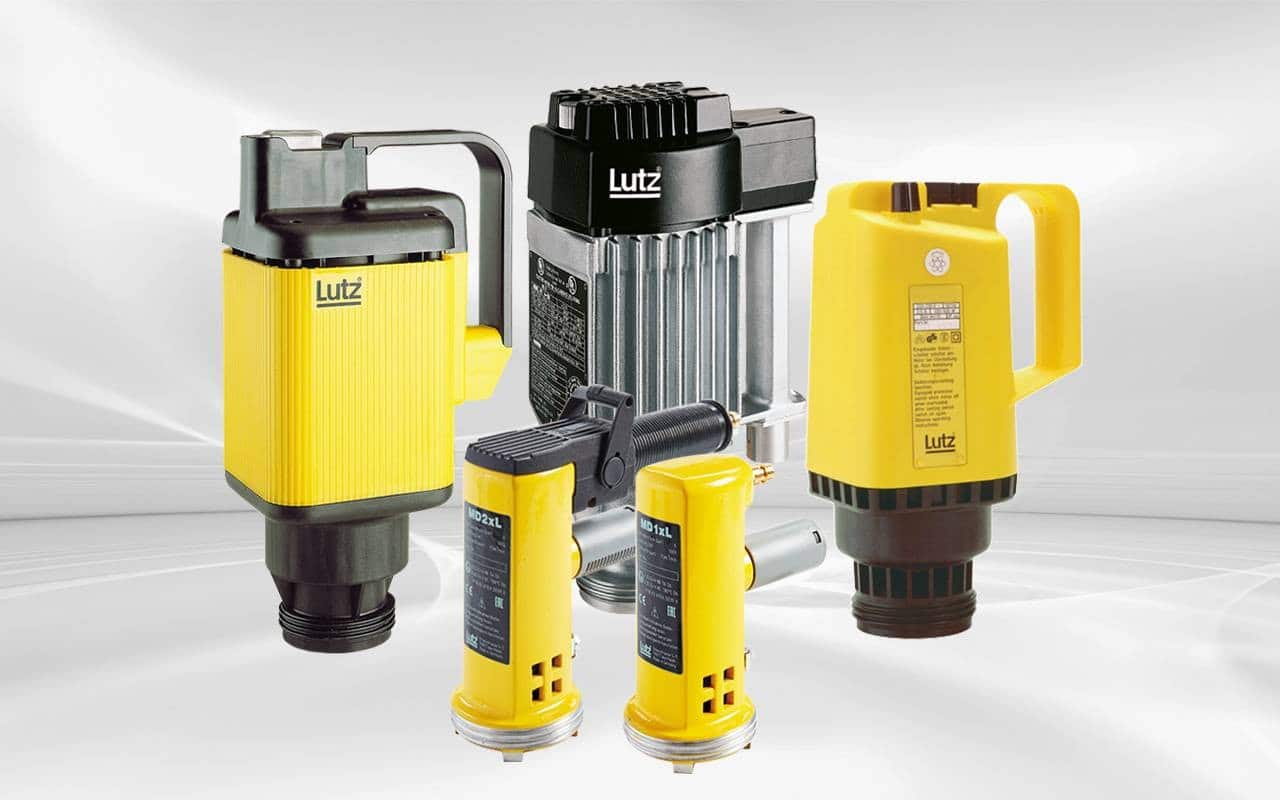 Lutz Pump Tubes
Lutz drum pump tubes can be used interchangeably with all Lutz drum pump motors. Tubes are available for a range of products, whether the application requires transferring, mixing, or complete drum drainage. Pump tube material options are offered in a variety of materials suitable for specific application requirements:
Mechanical seal or seal-less in Polypropylene, Aluminum, PVDF, or Stainless Steel
Hastelloy C
Mixing pump tube in Polypropylene or Stainless Steel
Complete pump drainage in Polypropylene or Stainless Steel
Progressive cavity pump in Stainless Steel
Specialized Container Pumps
Container pumps are available for stacked containers or containers that are otherwise not accessible from the top.
Horizontal Eccentric Screw pumps are ideal for either mobile or stationary use.
Horizontal Container pumps are compact pumps designed with an axial impeller can be directly connected to the bottom outlet valve.
Drum Pump Sets
Lutz offers prepackaged drum pump sets for emptying thin-bodied liquids from canisters, drums, or containers. These sets offer a complete, streamlined solution for typical fluid transfer applications, including acids or alkalis, light or concentrated liquids, mineral oil, hazardous fluids, solvents, and flammable or nonflammable liquids. Drum pump sets can also be combined with a flow meter.
PURE Pumps and Flow Meters
PURE pumps and flow meters are designed to meet the highest industry standards of the food, cosmetics, pharmaceuticals, and flammable cleaning products applications. The PURE series of pumps complies with the ATEX Directive, FDA regulations, and European regulation according to 1935/2004/EC.
Watch Kerr Pump & Supply – Lutz Videos
(To see video choices, open playlist using the upper menu bars)
Let the Kerr Sales Engineers design the right solution for your application